We've already discussed the importance of planning your schedule before your tummy tuck procedure – and that includes stocking your pantry with healthy foods for when you come home. Since many plastic surgery procedures like tummy tucks are outpatient, you'll be able to recover in the comfort of your own home. Because you'll be on bed​rest – and unable to continue your normal workout routine – your diet will have to change to adapt to your body's need for fewer calories. What's the best food to eat when recovering?
Kate Bayless, writing for Prevention magazine, noted that for the first week it is difficult for tummy tuck patients to do anything without assistance – so minimize the amount of effort you have to exert by having pre-prepared snacks ready. Nutrient-dense foods full of fiber – like fresh fruit, yogurt and veggies – are all great options. Hydration is also important: Sip herbal teas or water with a twist of lemon.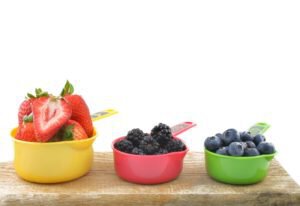 /figure>
Don't forget about adding a few servings of protein to your diet. That can take the form of protein shakes, asLinda Ray suggestedfor Livestrong, or lean meats like chicken. Make sure the protein shakes you're sipping are low in sugar: Too much sugar can cause you to break out. She also suggested adding foods that are high in omega-3 fatty acids to minimize any potential muscle atrophy.
There are of course foods to avoid. While it may be tempting to watch your latest TV obsession with a pint of ice cream or a bowl of potato chips, neither of those foods will give your body the energy it needs. In addition, the high salt will likely make you feel bloated, Lisa Moscovitz, founding dietitian of the NY Nutrition Group,statedin Women's Health – and could even lead to temporary weight gain. Sinceyou recentlywent under anesthesia, try to avoid your morning cup of coffee or a cocktail at night.
Dr. Taglienti brings his expertise in plastic surgery to Marotta Plastic Surgery Specialists to help patients look and feel their best as a board certified, Ivy League-educated plastic surgeon. Rated the number one plastic surgery practice on Long Island, Marotta Plastic Surgery Specialists work closely with patients for the best results. Once you're home, you can focus on recovering quickly and enjoying a new level of confidence with your body. To make the most of your recovery time, eat a nutrient-dense diet full of fruits and vegetables – and the occasional piece of dark chocolate. Schedule a consultation today to learn more about how Dr. T can help you.