As the holiday season gets into full swing, you may find yourself tempted by all the delicious treats and large meals that seem to appear this time of year. In fact, the average person puts on about 7 to 10 pounds during the holidays, according to The New York Times. If you are hoping to avoid the winter weight, Marotta Plastic Surgery Specialists has a few tips for you.
Enjoy but don't indulge
The holidays are meant to be a time of enjoyment and festivity. You should not feel like you have to sit on the sidelines when it comes to the big meals or office treats. However, do not overdo it. Even if the office fruit cake is pre-sliced, you can grab a knife and cut yourself a smaller piece. At family dinners, eat slowly and only eat until you are satisfied. Remember that it takes the brain fifteen minutes to register that your stomach is full. Focus on conversation with your friends and family instead of reaching for the extra helping.
Be smart with alcohol choices
Sharing a glass of eggnog or spiked cider is another tradition that many people do not want to miss out on during the winter holidays, but certain alcoholic drinks are high in calories. If you still want to join your friends or coworkers for a drink, choose a cranberry and vodka. It is a festive option without carbs. Moderation is key, however, as cranberry juice still contains sugar. You could also choose drinks made with cinnamon as it is a great antioxidant and it's also in line with the holiday spirit.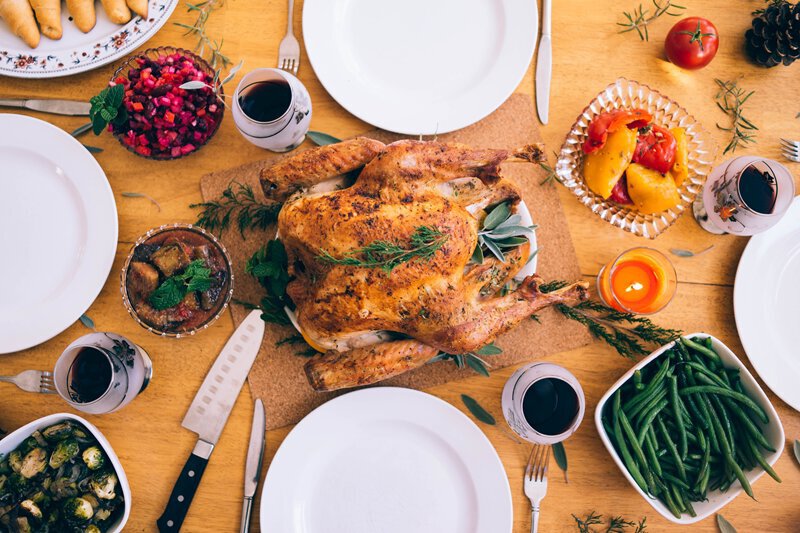 Holiday meals can be an opportunity to indulge, but it is important to make smart, healthy food choices.
Pack your plate the right way
Most holiday meals feature a ham or turkey, mashed potatoes and gravy, and a number of other sides and desserts. When the trays are passed your way, try to focus on selecting proteins and greens over heavy carbs. Additionally, sweet potatoes are often part of holidaymeals, and they are an excellent superfood. If possible, limit yourself on dessert and fatty foods. Deviled eggs are another great holiday food because they are high in protein. Limit yourself to one or two, however, to avoid going over on your cholesterol and fats.
Don't layarounddoing nothing
While you may have time off from work or school during the holidays, that does not mean you should spend the entire break binging your favorite television shows or catching up on sleep. Of course it is important to allow yourself some rest, but use some of your time away to put in extra work at the gym. Think of your spare time as a chance to try a new fitness class, explore a new running route or make a new workout buddy. If you do not enjoy traditional exercise, find new ways to get active. Take your family to a skating rink or go sledding. Both are fun ways to burn off the holiday meals.
This holiday season, make smart food choices and maintain an exercise routine to avoid the winter weight gain. And if you follow the above advice and are still retainingthe weight you gained over the holidays, you can contact Marotta Plastic Surgery Specialists for a free body sculpting consultation. The professionals at Marotta will walk you through the process and help you get the figure you have always wanted. To learn more, click the image below.