For women who are considering scheduling breast implant surgery, a common question that comes up is, "How will this affect my health?" Or, more plainly, "Are breast implants dangerous?"
A quick Google search may illustrate examples of people, including celebrities, who opted to have their breast implants removed because of health concerns. Crystal Hefner, wife of Playboy magazine tycoon Hugh Hefner, recently had hers removed for this reason. But do they actually adversely affect a woman's health?
"There are millions of women worldwide who have had breast implants for either reconstructive or cosmetic reasons, and the purported adverse health impacts are rarely reported," Dr. David Song, told Healthline. "There is no scientific evidence that breast implants and leakage of silicone has been the cause of any type of autoimmune disease."
Song's statement is bold, but others such as Dr. Daniel Mills, president of the American Society for Aesthetic Plastic Surgery, support him. "The crux of the matter is that we had always done studies looking at breast cancer. But the rate of women who got cancer didn't change" had they opted for implants.
"Breast augmentation was the top cosmetic surgery procedure completed in 2015."
Popularity of breast augmentation grows
In fact, breast augmentation was the top cosmetic surgery procedurein 2015 with 54,000 more scheduled than the second-most popular procedure, liposuction, according to the American Society of Plastic Surgeons' 2015 Plastic Surgery Statistics Report. While the amount completed doesn't necessarily indicate that breast augmentation has noside effects, it does show that many people feel comfortable undergoing the process. And this popularity has beenconsistent over the years.
Song also pointed out that many women have scheduled breast augmentation after having a mastectomy. The former is an important step to helping them regain their self-confidence.
"Breast implants are used for not only cosmetic reasons, but a significant number for reconstructive reasons after a woman has a mastectomy for cancer or a genetic mutation predisposing them to cancer," Song said. "Rebuilding a woman's breasts after cancer is also helping them to restore a sense of normalcy not just in appearance, but a sense of well-being. There are several studies that support the benefits of reconstructive breast surgery."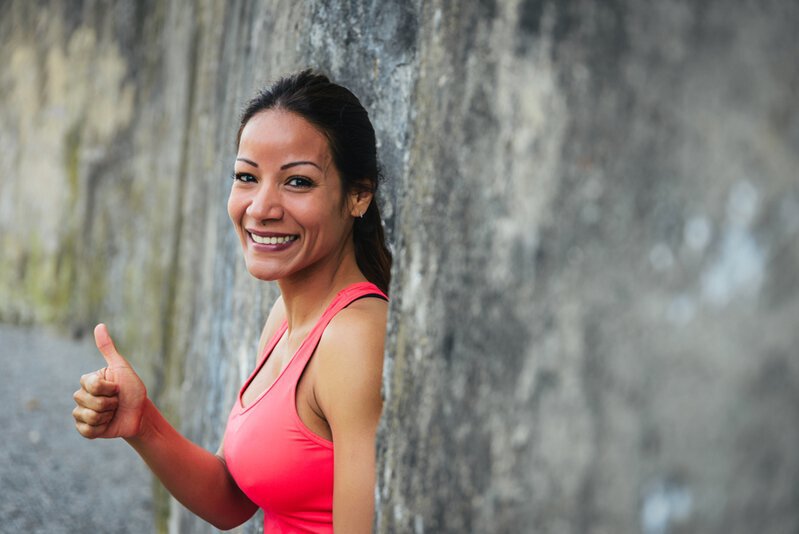 Getting breast augmentation can increase self-confidence and improve quality of life.
What to know before scheduling breast augmentation
For those straddling the line between not scheduling breast augmentation and having it completed, take comfort in knowing that many others have been in your situation before. By better understanding the beast augmentation process, you'll feel more comfortable undergoing it and less complications will arise.
Here are five things to consider prior to treatment:
The doctor may put you on the spot: "No you can't go from a 34A to 34B because your skin is too elastic and you need to go to a full C," theauthor of a Real Self articleentitled"10 Things I wish I'd known before Breast Augmentation" said her doctor told her. When you go into the office for your first consultation, understand that your expectations may be realized or dampened depending on your unique situation. Just because your friend has certain implants and they look incredible, doesn't mean you'll be able to replicate the look. However, even if you can't duplicate your friend's body, that doesn't mean you can't find a solution for you.
You can try on different sizes: Do you feargoing through breast surgery and not knowing what you'll look like when it's completed? Cosmetic plastic surgeons don't run their practices this way. You'll have the opportunity to try out different sizes by using what are known as "sizers."
You may need additional follow-ups: Have you ever had surgery before? And did you ever have to revisit the doctor to make sure your body was responding well to the procedure? Don't be surprised if you have to make additional appointments to ensure your body is handling the original surgery well.
You need to understand and adhere to recovery time: It'll take time to recover, so it's important that you get plenty of rest and limit your movement. Upon the procedure's conclusion, bandages and a specialized bra will be applied to help in the healing process. Some patients do report minor pain, which can be treatedwith oral medication.
You must know the difference between saline or silicone: The majority of patientsopt for silicone implants (72 percent according to the American Society of Plastic Surgeons). While the reasons are person-dependent, it may have something to do with their weight (they're light) and have a natural feel.
While some people reported discomfort and have subsequently had their implants removed, thousands of doctors and patientsstand behind the practice. In order to increase your confidence, consider the popularity of the procedure (it was ranked first in 2015 out of all other cosmetic processes, according to the 2015 Plastic Surgery Statistics Report ) and what you need to do to prepare for your appointment.
If you're thinking about scheduling an appointment, plastic surgeon Dr. Taglienti will discuss your options, answer questions and explain the cosmetic process with you to helpease anyhesitations. We also suggest talking with friends and family who may be able to provide further insight or direct you to additional sources. Breast implants can positively change your life. For more information, please feel free to contact us or visit our website.