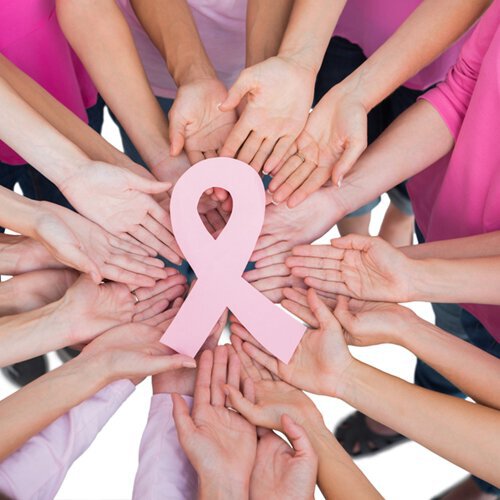 October is National Breast Cancer Awareness Month
In addition to being National Domestic Violence Awareness Month, October is also National Breast Cancer Awareness Month.
Breast cancer is a disease in which malignantcells form in the tissues of the breast, and then are capable of invading other areas of surrounding tissue.
According to the National Breast Cancer Foundation:
Although rare in men, an estimated 2,150 men will be diagnosed yearly with breast cancer.
Breast cancer is the most commonly diagnosed cancer in women, and the second leading cause of death
One in eight women will be diagnosed with breast cancer during their lifetime.
When breast cancer is detected early, within the localized stage, the 5-year relative survival rate is 100 percent, according to the American Cancer Society.
Early detection begins with understanding the signs and symptoms of breast cancer. One of the best ways to detect breast cancer is by having a good understanding of your breasts, and any changes that may occur. By performing monthly breast self-exams, you are taking a first step toward keeping yourself healthy.Knowing your family history, and having yearly mammograms starting at age 40 (or earlier, depending on your individual risk factors), is also imperative.
Some common signs of breast cancer include any nipple discharge, especially clear or bloody, a change in the feel of the breast or nipple or a change in the overall breast or nipple shape. Although these are not definitive signs of cancer, if detected, they should be brought to the attention of your primary physician right away.
If you are a survivor of breast cancer, you may be able to undergo a breast cancer reconstruction procedure. This procedure rebuilds the breast mound, areola and nipple. After cancer, this type of procedure often gives women the opportunity to take back control of their body, regaining confidence in their appearance, as well as a new direction for their cancer-free life.
Dr. Anthony Taglienti of Marotta Plastic Surgery Specialists specializes in a range of body procedures including cosmetic and reconstructive breast surgery. If you're interested in learning more about the procedure, schedule a consultation today.
Post navigation
October is Domestic Violence Awareness Month
Why do breasts sag?