As summer approaches, the layers come off and more of your skin gets exposed.While many men don't mindhaving a little morebody hair, others may find it uncomfortable during the summer months. Excessive body hair can zap self-confidence. It can also make even a short trip outside a sweat-inducing activity.
Laser hair removal is a great solution for removing excess hair, whether you have a little or a lot of it to shed. Here are three reasons why men should consider laser hair removal this season:
1. Beach season is just around the corner
Whether you're headed to Hither Hills State Park for a weekend beach break or you're jetting off to the Dalmatian coast, you'll want to look your best. Back hair removal is a popular option around this time of year, because there are no more bulky sweaters to cover up the thatch.
If you have a little extra body hair that you typically shave off several times a season, laser hair removal can save you from the irritation of razor burn. If you have a much more body hair than you want, the treatment can give you a whole new look and an improved self-image.
If you've been working on your beach bod all winter, why hide it with excessive body hair? Show off your hard work with a laser hair removal treatment.
Because hair grows in cycles, multiple treatments are necessary to achieve permanent hair removal. If you start soon, you'll have plenty of time to get your desired look for the summer.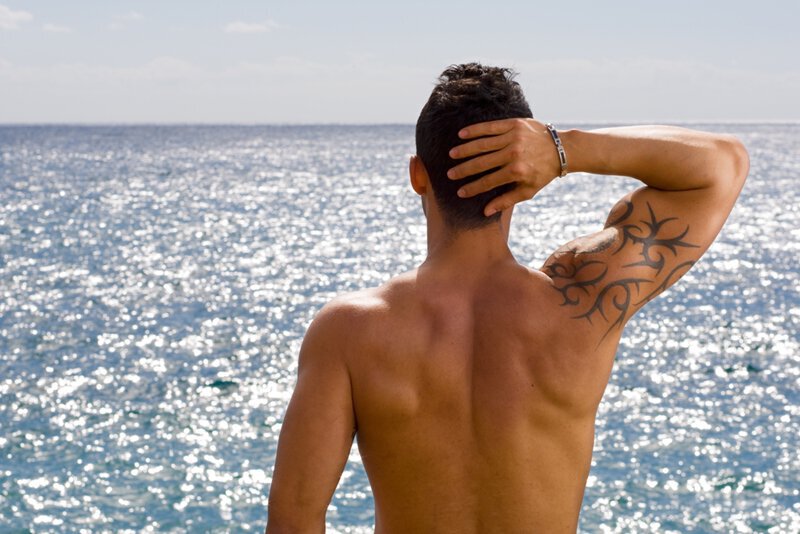 Summer is the perfect season for back hair removal.
2. It's better than waxingand shaving
Waxing can be extremely painful and must be redone every time the hair grows back. Unless you want to undergo this highly uncomfortable procedure every few weeks, laser hair removal is a much better option.Plus, you don't have to worry about razor burn anymore.
When you opt for laser hair removal, you may feel minor discomfort. After the procedure, it's common to experience some redness similar to a sunburn. A cold compress can reduce minor swelling. These negative side effects usually dissipate within 24 to 48 hours.
3. It reduces your manscaping time
For men with excessive body hair, manscaping – or trimming away unwanted hair – can take up quite a lot of time. Barret Wertz of Men's Fitness Magazine reported that he often needed to visit the barber shop just to clean up his neck hair. These trips between haircuts were annoying, and he found it difficult to trim his own neck at home. Wertz reported that laser hair removal reduced his usual time spent trimming and shaving.
Want to remove your excessive body hair? Dr. Marotta is a dual board certified facial plastic surgeon. He is committed to delivering the best experience possible to his clients. Schedule a consultation today to see how Dr. Marotta and his team can help you decide if laser hair removal is right for you.