Men should take care of their skin year-round. Unfortunately many men disregard doing so,which can lead to permanent damage that not only distorts skin color and texture but may also causelong-term side effects like skin cancer.
As a man, you might be wondering what the difference is between using your wife or girlfriend's skin products and purchasing male-focused ones. After all, don't all skincare products protect, heal and refurbish the skin?Yes, but different products exist because men and women have different skin types.
"Men's skin is much thicker, oilier and warmer (because men have more blood vessels) than women's skin, therefore men need products that absorb more readily into skin and ones that take its oily nature into consideration," said skin care product entrepreneurAnthony Sosnick, according to The Fashion Spot.
The question then becomes: Because men and women have different types of skin, how should they go about treating it? As Sosnick pointed out, it comes down to the types of products they use for their specific skincare related activities. For example, Sosnick noted that, when shaving, men need to use the correct type of cleanser.
"One of the most important products for men to pay attention to is their cleanser," Sosnick said. "A good facial cleanser will help ensure the razor has a clean shaving surface to avoid ingrown hairs and razor burn. I recommend that men opt for an exfoliating cleanser, whereas women might want to opt for something on the gentler side that's sulfate-free to avoid drying out the skin."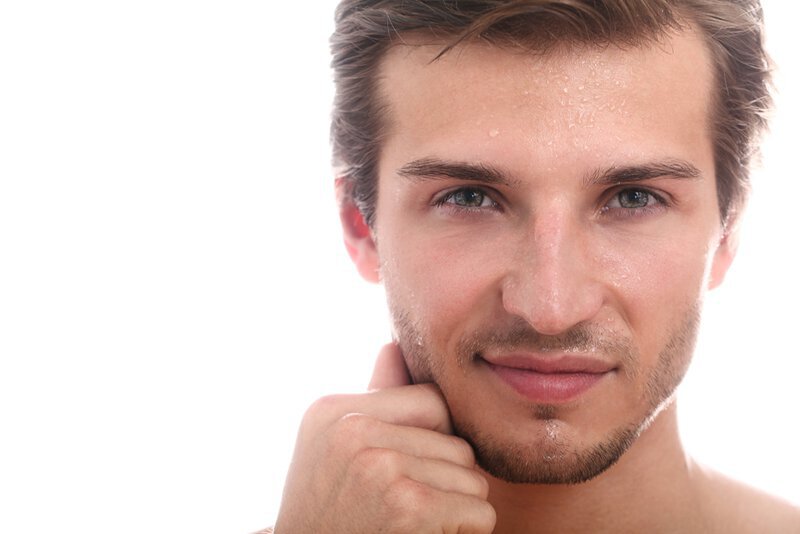 Men shouldn't neglect their skin. They need to take care of it throughout the year.
<
Summer skincare
Men can use Sosnick's advice throughout the year, but what about caring for skin during the summer? To answer this question, they must first understand how the skin operates differently during the winter and summer. While dry skin can be an issue during colder months, oily skin can be a major headache when the weather heats up, especially for those who spend a lot of time outdoors.
In the summer, we perspire and produce an abundance of oil. To keep skin protected we reapply sunscreen at least a few times of day. While this may shield skin from the sun's harmful UV rays, it also cakes on loads of dirt and sweat that seep into pores. This causes breakouts that can lead to scarring if not properly treated.
For the best protection, men need to wash the face before applying additional sunscreen. He Spoke Style suggested that men use a cleanser to remove oil and dirt and then applyexfoliant, toner and SPF lotion.
Improve damaged skin with cosmetics
If your skin is already damaged, don't despair. While this article may appear to be geared towards those who don't have extensive damage, those who are candidates for cosmetic surgery should also heed this advice. It's vital that men take care of their skin from spring to winter no matter the circumstances. This will protect it from further damage.
If you have the following skin conditions, think about scheduling cosmetic surgery with dual-board certified facial plastic surgeon Dr. Marotta of Marotta Plastic Surgery Specialists:
Blotchiness.
Acne scars.
Brown spots.
Wrinkled or sun-damaged facial skin.
Fine wrinkling around the upper eyelids.
Vertical wrinkles around the mouth.
Theskin resurfacing techniques we offer include dermabrasion, hetters peel, chemical peel, deep-bakers phenol, medium-Jessner 35 percent TCA and laser.
"Thousands, and often millions, of people schedule cosmetic surgery to repair skin damage every year."
For those who might be skeptical about undergoing these procedures, don't be! There are thousands, and often millions, of people who schedule cosmetic surgery to repair skin damage every year. From 2014 to 2015, for example, there was a 5 percent increase in the number of chemical peels from just over 1.2 million to 1.3 million, according to the American Society of Plastic Surgeon's 2015 Plastic Surgery Statistics Report. There was also a similar percentage increase in laser skin resurfacing. While surgery should always be a personal choice, these statistics should provide comfort as you decide how best to fix your skin.
If you would like more skin care advice or would like more information on how cosmetic procedures can help you, please call us today. We'd be happy to set up an appointment and from there analyze your skin condition and recommend treatment options.