As we age, our skin naturally loses the firmness and tightness present in youth. We tend to characterize "old skin" as being saggy and having wrinkles.
Ultherapy® is the only non-invasive, FDA-approved treatment available today that is indicated to lift the brow and reduce signs of aging. Clinical studies by Ulthera® have shown significant results when the cheeks, jawline & neck were treated as well, resulting in an overall lifted, rejuvenated look.
Ultherapy® harnesses the power of ultrasound, which, when focused on the underlying muscle layer, causes "thermal coagulation points" of heat, or TCPs. These TCPs are what ultimately enable the body to produce its own collagen, resulting in a noticeable "lift" of the area(s) treated. The procedure is unique in that there is virtually no "social downtime" immediately afterward, with little to no disruption of your daily routine. This makes Ultherapy® ideal for New Yorkers with busy lifestyles & hectic schedules, who may not be ready for a traditional lift or who cannot fit some recovery time into their lives.
New York facial plastic surgeon Dr. Marotta uses this ground-breaking technology in customizing your treatment to fit your specific needs. Most patients require only one treatment to achieve the lift they're looking for, and the treatment can be repeated if desired in three months to one year for increased lifting. You should see results last from one to two years following Ultherapy® at our Long Island facial plastic surgery clinic. The entire treatment takes about an hour.
Reasons to consult a Long Island plastic surgeon about Ultherapy®
Patients showing the beginning signs of laxity
You want to stay "one step ahead" of the aging process
Those who are noticing a lowered brow and some excess eyelid skin
Patients with some "droop" to the cheek
Your lifestyle just doesn't allow for any of the downtime associated with a surgical procedure
Those who have some laxity to the jowls & neck
Any patient who wants to "freshen up" a prior surgical procedure
General procedure for your non-surgical facelift
During your first appointment with your Long Island specialist, a detailed pre-procedure consultation will be performed & pre-procedural photographs will be taken. We recommend that you take four Advil or Motrin one hour prior to your scheduled treatment time. The waves of ultrasound are targeted to address specific muscle groups & facial regions. A cool ultrasound gel is applied to the treatment area. As the energy is being delivered, you will feel some heat build underneath the skin. As you become more familiar with this unique sensation, your Long Island specialist, will continue to monitor you for discomfort and may briefly massage each area before moving on to the next. A series of two passes is made in each area, which delivers energy at different depths for optimal anti-aging results.
Recovery After Ultherapy
Immediately after your Ultherapy® treatment at Marotta Medspa, you may feel a mild to moderate sunburn-like sensation. Do not apply ice or cool compresses since the heat that is generated by the treatment is stimulating the collagen formation. Occasionally you may have minor swelling which can last from two to 24 hours. Your New York plastic surgeon may recommend hydrocortisone cream and/or Aloe gel to facilitate healing. Mild redness may also occur but resolves in two to three days. Make-up and your regular skin care regimen may be resumed immediately post-therapy if there is no significant redness. You may return to your regular activities and work without any downtime. You will notice some soreness & tenderness in the area(s) treated for up to four weeks. You will be able to see some improvement immediately following the treatment, but continued improvement will be seen for up to 1.5 years.
After your non-surgical facelift, your Long Island plastic surgeon may advise you to avoid exfoliating products (eg: glycolic acid) for one week. Be sure to use a broad-spectrum sunblock daily with an SPF of 30 or greater and containing Zinc Oxide and/or Titanium Dioxide to prevent swelling and discomfort.
Visit Ulthera.com for more information on this incredible non-invasive procedure or book a consultation at our Long Island clinic today.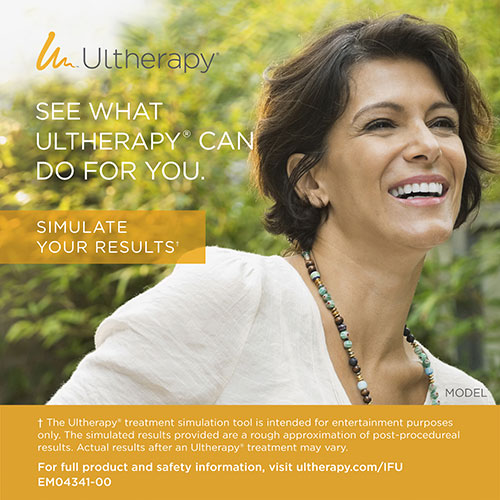 INFORMATION LINKS:
Frequently Asked Questions
Décolletage Information